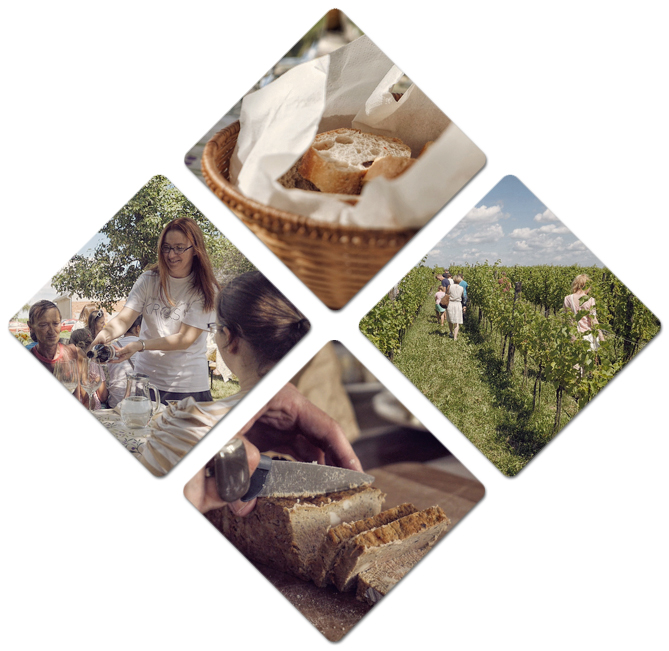 In 2011, it began to pretend and this is so far. For the Rondo Rose 2011 wine, I received my first silver medal at the Enoexpo. The prizes are not the most important, but they increase the sense that what we do, however, makes sense that it is not just a romantic dream without coverage.
I'm making wine today. Go ahead and without false modesty, I can say that I am happy with them. No, not entirely, they are better, whom I have great respect for and constantly try to match.
Behind me, only a few years, how many more? I do not know and I do not think I want to know, because I want to enjoy everybody coming, hoping that more and more experience and creative experiments will make the wine that I give you will really meet your expectations!
Today, we can invite you to a small but quite decent tasting room, treat yourself with regional cheeses and cold meats, show the cellar and the processing plant. The vineyard has grown to 1.5 ha, we still have space and unwavering hope for the second one.
We also hope for new wine-related challenges. May life be enough.
What is hospitality?
We know what hospitality is for us. It is above all a willingness combined with action, aimed at making every guest feel at home as if he came to good old friends. That he would feel that he is awaited and accepted with joy. We do not spare time or energy to provide you with the best conditions that we can afford at the moment. We are direct in contacts, but we also do not forget about respecting your privacy. We expect you every day, with our wines and regional snacks of the highest quality.